Enhance Your Beauty with Makeup Services in Milford, PA
At a|k Studios, we want to take the guesswork, slipups, and stress out of your special day or any average day in particular. Even with proper planning, the day of any event can be chaotic. Our makeup services relieve you of makeup duty by creating a special look with your face, style, and day in mind—all perfectly tailored to you. Or, if you're looking to brush-up on your makeup skills and techniques, learn from the best of the best in Milford, PA.
Makeup Services
Elevate and refine your natural beauty with our makeup services at a|k Studios. Our professional artists can apply makeup for a perfect complexion and ensure you're camera-ready for a big occasion or no occasion at all. We can help your eyes pop, accentuate your cheekbones, match color and styles with those of your dress, or give your lips the glossy finish they need to stop traffic.
Every makeup product we use is professionally approved and well-trusted, so you can dance the night away without worry of streaks or smudges. Our team schedules an initial consultation with you before your special function when you can share any inspirational photos and express what you like and don't like. From there, our team will perform a trial run, so you know exactly what your makeup will look like on the day of your celebration. Or, if you're interested in knowing more about makeup application, our team provides lessons jam-packed with next-level tips and tricks.
Benefits of Makeup Services
Use of professional produces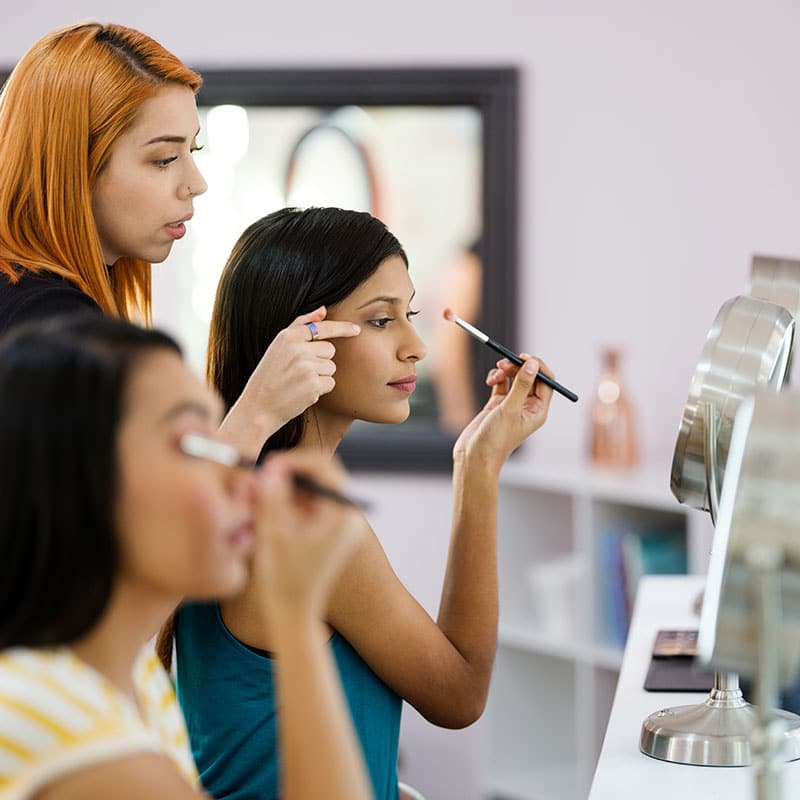 Relieve Stress & Look Your Best with a|k Studios
Spare yourself the last minute rush or trembling hands. Get your makeup done properly and beautifully with our makeup services instead. If you're looking to "brush" up on your makeup skills for everyday use, schedule a makeup party with us or attend one of our excellent classes for all the pro tips.
Our team at a|k Studios would be honored to work with you for your next special event. Our certified team of experts strives to create & teach looks you thought you could only dream of! Enjoy a stress-free day & look your best with a|k Studios. Call us at (570) 832-1946 to schedule your consultation or contact us online today.
Makeup Service FAQs
Absolutely! If you want to work with a specific member of our team, just let us know when you call to schedule a makeup consultation. Our entire staff is dedicated to providing you with the results you are looking for.
For your initial consultation, we ask that you don't wear any makeup to your appointment, but regular skincare is fine. We recommend you bring any inspirational photos of makeup you admire, so the artist can tailor your makeup to what you like. If you are able, bring photos of the event decor, your outfit, and anything else you think would help your makeup artist visualize the overall look of your event.
Relax and enjoy your day! If possible, our team likes to set up near a window for natural light, but otherwise, sit back, relax, and let our team work their makeup magic.