Permanent Spider Vein Treatments in Milford, PA
Like rivers, blood finds other paths when blocked. Chronic sitting or standing over long periods can contribute to circulation issues in your legs, causing unsightly and unwanted spider veins. Age, pregnancy, and certain injuries can also increase the risk. Thankfully, those veins aren't necessary, and with these treatment options at a|k Studios, they can be closed for good.
Laser Treatments for Spider Veins
Paramedical tattooing offers a way forward for those suffering from post-surgical scars, burns, cleft lips and palates, pigmentation loss from scarring, vitiligo, and hypo-pigmentation. Transform your skin with this innovative, completely customizable process.
Skin, blood, and veins all absorb light at different rates. When properly tuned, a laser beam can hone in on superficial blood vessels (like spider veins) and heat them to the point of collapse. Once heat causes blood to coagulate, the vein walls cave in, and the blood that once appeared purple and gnarled takes a different, less-visible route.
At a|k Studios, we use a YAG laser to harmlessly penetrate skin. A cooling tip and localized cream prohibit sensations of discomfort or heat. Best of all, when a spider vein is closed, it will not grow back. So, are you ready to retake your legs at a|k Studios?
Benefits of YAG Laser Treatments for Spider Veins
Non-invasive & non-surgical
No recovery or downtime required
Sclerotherapy Treatments for Spider Veins
For smaller spider veins in difficult-to-treat areas, sclerotherapy is the preferred method of treatment. Like laser treatments, sclerotherapy works by causing spider vein collapse. But unlike laser treatments, sclerotherapy relies on an injectable solution to bring about the permanent end of unwanted veins.
At a|k Studios, our licensed physicians inject a saline-based solution directly into the unwanted vein. This solution causes the vein to invisibly scar, blocking any further blood from taking that particular path. Sclerotherapy is quick, effective, and permanent, providing much-needed, quality-of-life benefits.
Benefits of Sclerotherapy Treatments
Quick appointments (15-30 minutes)
Safe, effective, & proven
Relieves some symptoms associated with poor circulation
Quick results (within 6 weeks)
No downtime or recovery period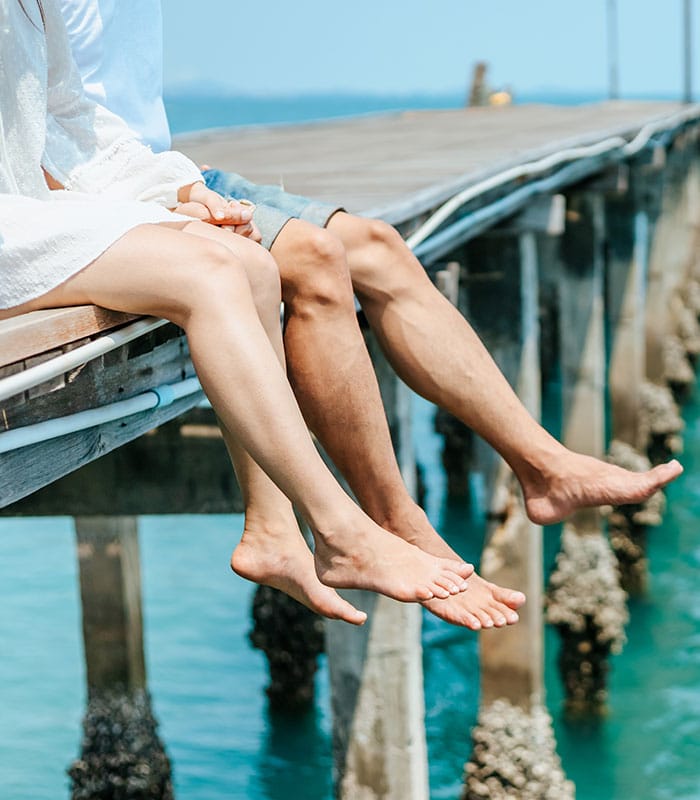 Permanently Eliminate Spider Veins at a|k Studios
From end to end, spider veins are a nuisance, plaguing both our wardrobe options and our confidence. Thankfully, with recent advancements in modern medicine and cosmetic laser systems, you don't have to endure the embarrassment caused by simply baring your legs.
When you visit a|k Studios in Milford, PA, you're part of the family, part of the fun, and part of our compassionate beauty tribe. With YAG laser and sclerotherapy treatments, you can feel confident showing off your legs wherever you please. Call us at (570) 832-1946 to schedule your treatment or contact us online today.
Spider Vein Treatment FAQs
Yes, both YAG laser treatments and sclerotherapy for spider veins close those veins for good. That does not mean, however, that further spider veins won't develop. The underlying causes, hormonal changes, and lifestyle choices that contributed to spider veins may cause new veins to appear. When they do, you can count on a|k Studios to help you handle them. Patients in Milford, PA, and those visiting from New York City, NY, don't have to suffer from embarrassing veins.
Preventing spider veins from occurring in the first place means identifying potential causes and working to correct them, though this isn't always easy or possible. Speak to your primary care physician about underlying causes and what you can do to reduce your chances of spider veins.
On average, patients witness the permanent closure of spider veins within six weeks, but the process can take anywhere from one to three months. Veins will start fading within weeks of your sclerotherapy appointment, but multiple saline-solution injections may sometimes be necessary for the best results.