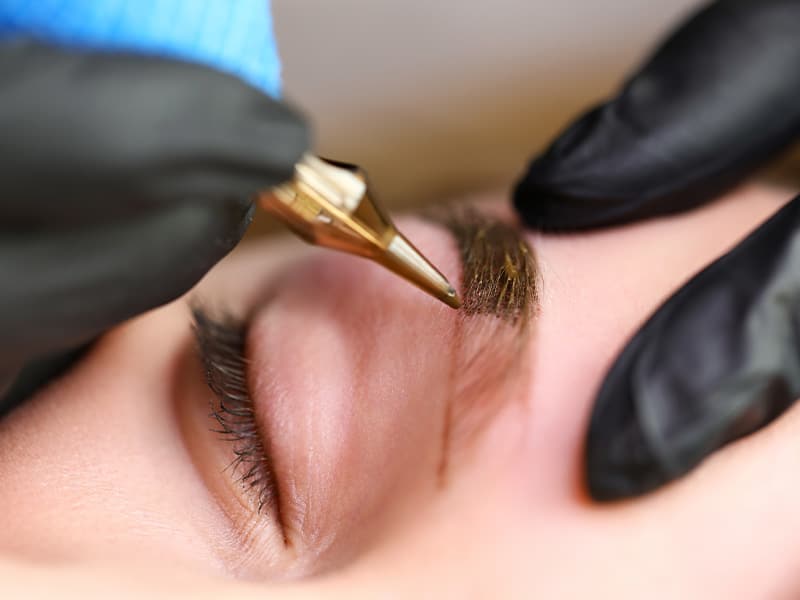 Magnify Your Natural Beauty in Milford, PA
Whether you're tired of drawing on nonexistent brows in the morning or simply want your lips to look a little fuller, permanent makeup could be the answer you were looking for. Our award-winning permanent makeup artists are highly experienced, and create exquisite, natural results you never thought possible.
Eyebrow & Eyeliner Permanent Makeup
Our eyes are the focal points of our faces. With our eyebrow and eyeliner permanent makeup services, you can enhance your most prominent features for good. Eyeliner can be tattooed on the top, bottom, or both lids with a variety of line widths to choose from. And our eyebrow permanent makeup services can provide fuller, thicker brows, while still appearing natural. Define, elevate, or transform your eyes with our permanent makeup services at a|k Studios.
The permanent makeup technique is similar to a normal tattoo. Your technician can help you decide what style, width, and pigment color are best for your unique facial features. After applying a topical anesthetic, the colored pigment is implanted on the upper layer of your dermis with the help of a hand-held device. If you are allergic to regular makeup, have naturally watery eyes, or want smudge-proof enhancements, our eyebrow, and eyeliner permanent makeup services are perfect for you.
Benefits of Permanent Eye Brow & Eye Liner
Avoid eye sensitivity from makeup products
Eyelashes appear more voluminous
Lip Color Tattooing & Lip Blushing Permanent Makeup Services
Create the perfect lip color for your unique skin tone with lip color tattooing and lip blushing. Choose from a variety of shades and colors for the perfect lip color. Our team can recommend shades that best suit your skin tone and apply color to enhance symmetry. Find harmony between all your facial features with lip color tattooing and lip blushing at a|k Studios.
Lip blushing creates a natural, lighter lip color. Similar to the appearance of a lip tint or lip gloss, lip blushing is ideal for those who just want a little pop of color. Lip tattooing is similar, but with more saturation. A different needle will be used to apply more pigment and create the appearance of a brighter and bolder color. Both methods provide long-lasting results for fuller and more luscious lips.
Benefits of Lip Color Tattooing & Lip Blushing
Increased lip pigmentation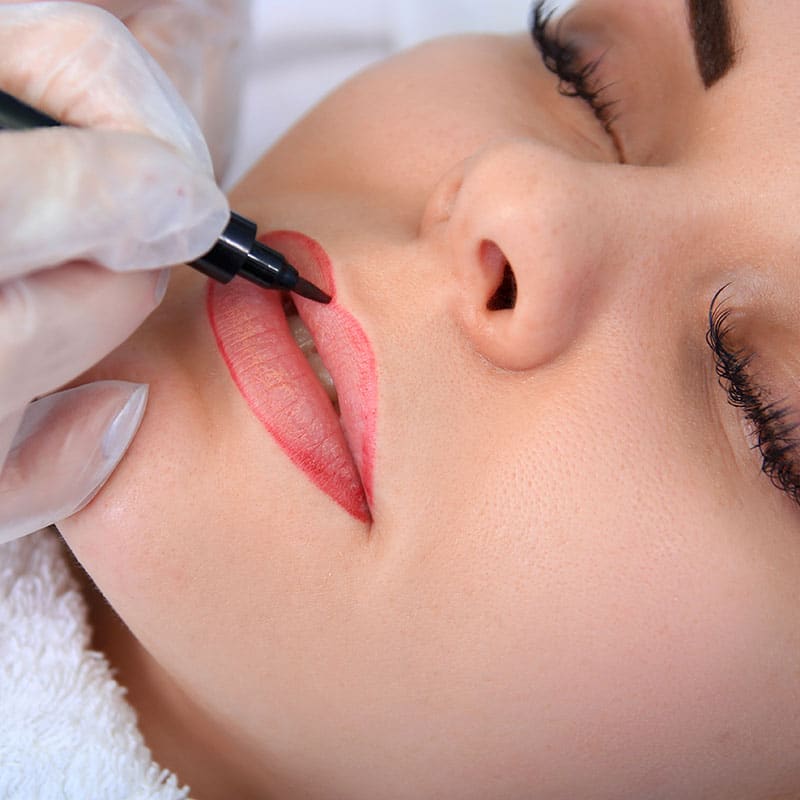 Long-Lasting Makeup for the Busy Bee at a|k Studios
We understand the struggle of maintaining a busy schedule and not wanting to worry about your makeup fading throughout the day. Or, you may have allergies to common eye makeup that prohibit daily use. No matter the reason, permanent makeup can help you achieve natural-looking, beautiful results that are long-lasting.
At a|k Studios in Milford, PA, we are dedicated to creating results you are excited about. Our owner and resident micropigmentation artist, Amy Kernahan, is famous throughout the region for her skillful approach to permanent makeup. Call us at (570) 832-1946 to schedule your treatment or contact us online today.
PMU Service FAQs
Permanent makeup can last anywhere from 1 to 5 years. The longevity of your permanent makeup depends on a number of factors like aftercare maintenance, pigment color, skin type, age, and more. Color boosts and touch-ups are available whenever needed for excellent results year-round.
Many clients undergo the process with little to no discomfort. A topical numbing cream is applied to the treatment area for a stress-free experience. Everyone's pain threshold is different, but the majority of clients don't report any discomfort at all.
Yes. If your permanent makeup fades, you can alter the pigment and application the next time you're in the studio for touch-ups. A variety of aspects can contribute to how your permanent makeup fades over time, but we're always happy to help with whatever you need.