Boost Overall Skin Health with RF Microneedling in Milford, PA
Your skin is a living, breathing, self-repairing suit of armor. But as smart as your skin is, it sometimes needs a refresher course on how and what to prioritize when healing. RF microneedling marshals your skin's forces to repair nearly whatever you want, wherever you need it most. Here's what you can expect when you choose RF microneedling from a|k Studios.
How RF Microneedling Works
From scraped knees as a child to paper cuts as an adult, you've watched your skin heal in real time throughout the years. Unfortunately, as we age, that remarkable healing power slows. Scars, blemishes, wrinkles, and textural issues stack up on our skin. Thankfully, with just a reminder, RF microneedling inspires more potent healing responses for nearly comprehensive skin rejuvenation in targeted areas.
RF microneedling treatments begin with a special applicator lined in extremely fine needles. These needles create micro-channels in your skin—small, well-like structures that your skin confuses for damage. Then, our top-of-the-line Pixel8 system sends radiofrequency (RF) waves down each micro-channel, warming up the lowest layer of skin to supercharge production of collagen. As a result of both simulated skin damage and RF heat, your skin heals old and new scars faster while tightening and supporting overall complexion and health.
RF microneedling is gaining rapid popularity for one simple reason: it works.
Benefits of RF Microneedling
By boosting collagen—a naturally-occurring structural protein responsible for skin health and resiliency—RF microneedling can combat dozens of skin conditions with each appointment. Patients see nearly immediate results after just one treatment, and those results only get better with each additional visit.
RF microneedling can reduce or eliminate:
Other benefits of RF microneedling include:
Quick appointments (30-60 minutes)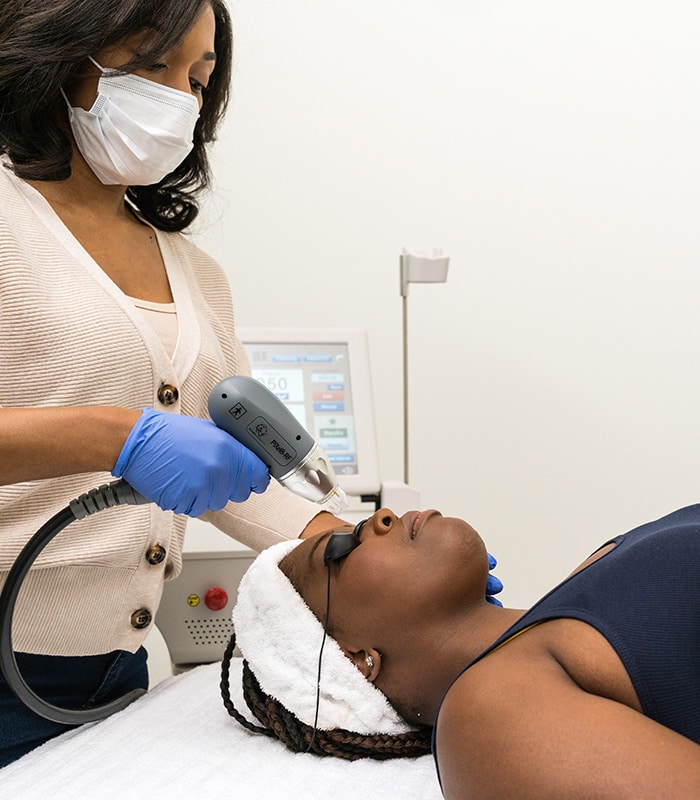 Combat Blemishes & Wrinkles with RF Microneedling
Each of us benefits from some encouragement now and then—and our skin is no different. By tricking your skin into focusing its healing efforts into a desired location, you can tighten skin, uncover facial contours, improve complexion, and even combat crepey skin texture on your cheeks, neck, and jawline—all with just a few quick and comfortable appointments.
When you visit a|k Studios in Milford, PA, you're part of the family, part of the fun, and part of our compassionate beauty tribe. RF microneedling is among our most effective and popular treatment options thanks to its comprehensive approach and fantastic results. Call us at (570) 832-1946 to schedule your appointment or contact us online today.
RF Microneedling FAQs
No, not for most patients. The majority of those treated with RF microneedling describe the process as entirely comfortable. Depending on your sensitivity to needles, a topical anesthetic may be applied.
We sometimes think of scars (no matter their source) as being permanent. But really, scars are sometimes only partially healed skin. RF microneedling inspires localized healing efforts and boosted collagen to focus your skin's attention on an area that needs more healing and support. In this way, old and new acne scars finally get the attention and resources they deserve from your skin.
Yes, RF Microneedling can decrease excessive sweating (hyperhidrosis). RF waves convert to heat in the skin, creating a thermal tissue reaction that limits sweat gland production and prohibits drastic sweating reactions. On average, RF microneedling reduces sweating in treated areas.